Corona Daily Comment – ENG | 06
EXCLUSIVE! The results of the model developed by FinLantern on the progress of the Coronavirus epidemic
Coronavirus Daily Comment (issue #6)
(by Riccardo Esposito, CEO at FinLantern)


The solution to all the (economic-financial) problems of COVID-19: the "TIME WARP"
The impact of asymptomatic cases on the model
Presentation of the main results indicated by the monitoring and forecasting model of the epidemiological curve developed by FinLantern
Why the number of asymptomatic cases does not affect our model
Comment on yesterday's data (March 24)
Forecast on today's data (March 25)
Analysis of the possible impact of the latest data on the financial markets: POSITIVE!
Dear FinLantern friends,
Thanks for appreciating my idea of the #TIMEWARP (temporal distortion) that I presented to you yesterday.
I remember, for those who had not read it yesterday (see https://finlantern.com/corona-daily-comment-ita-05/), that #TIMEWARP could be the idea to save all the companies affected by the crisis of the COVID-19 and start again as if nothing ever happened. In fact, the months of March and April (and hopefully not even in May) are canceled from the 2020 calendar.
I summarize very briefly how #TIMEWARP should be put into practice:
Financial markets (Europe and USA) frozen from now until May 1st!
Suspended salaries
Rents for the months of March and April canceled (after all, March and April never existed!)
Interest payments on mortgages and loans canceled… the deadlines can be moved forward by a couple of months.
Insurance companies must immediately repay 2/12 of the premiums collected in advance. In fact, what risks do they have if we are all locked up at home and the activities are stopped?
All subscriptions and season tickets (gym, bus pass, theater season ticket …) slip by 2 months by default.
Today, as you are continuing to write to me in many, I report some of your suggestions or additional fields of application to #TIMEWARP:
Freezing the financial markets: in this way wild speculation is also prevented.
Bonds (both government and corporate) also fall under the effect of #TIMEWARP. States and companies no longer have to pay coupons. Deadlines are moved forward in a couple of months.
The interest savings that the States will have from the application of the previous point can be used to give a subsidy directly to families with an income below a certain threshold to allow them to finance basic needs (food, utilities, Internet connections and TV) .
The leasing installments (cars, plants and machinery …) are canceled. Leasing deadlines have moved forward in a couple of months. This would probably also save the airlines, which, having very high fixed costs, risk being soon bankrupt or all nationalized.
For insurance companies, as an alternative to my idea of ​​having them repay the 2/12 of the premiums received in advance (which, however, would have the merit of having immediate liquidity to families to finance their primary consumption during the period of #TIMEWARP), you could more simply provide for an extension of the insurance coverage for another two months absolutely free of charge.
(send me your other ideas on Riccardo@FinLantern.com)
As I wrote yesterday, the result would be:
"#TIMEWARP would allow us to restart our economies as if nothing had ever happened (March and April never existed!) … and preventing governments by throwing huge sums of money at the market and by creating new debt!
On May 1st we would only have woken up from a bad nightmare J"
PS: Maybe someone has already started to apply the #TIMEWARP: yesterday Japan got from the IOC to move the Olympics in 2021 and in the world of football the Italian Football League and UEFA are thinking of cutting football players' salaries by 30% (poor boys!)
**********************
COMMENT TO THE DATA of 24/03/2020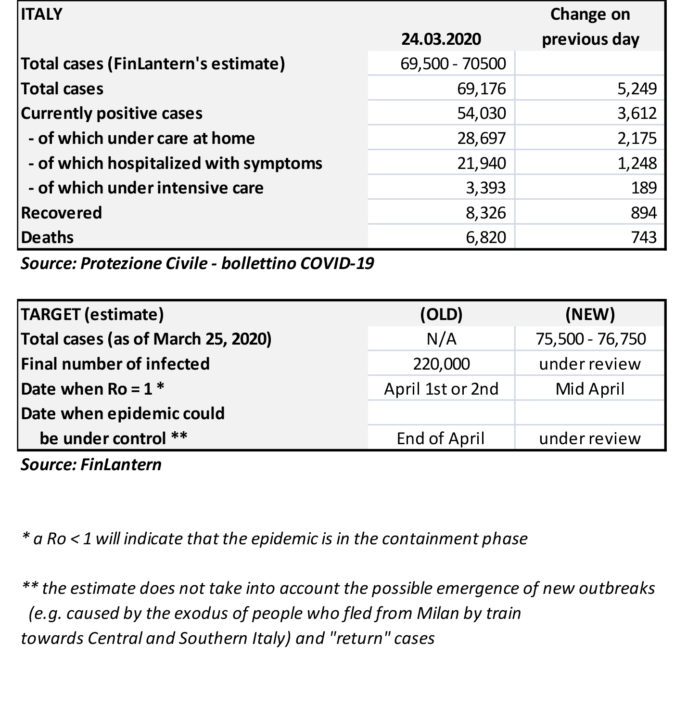 Yesterday's data 24/03/2020 continues to be good!
Do not let the increase in newly infected people from 4,789 to 5,249 (+ 10%) be misled.
This change brought the total of infected to 69,176, slightly lower than the target indicated by us yesterday (69,500-70,500), concretely confirming the drop in the Ro index (1.42).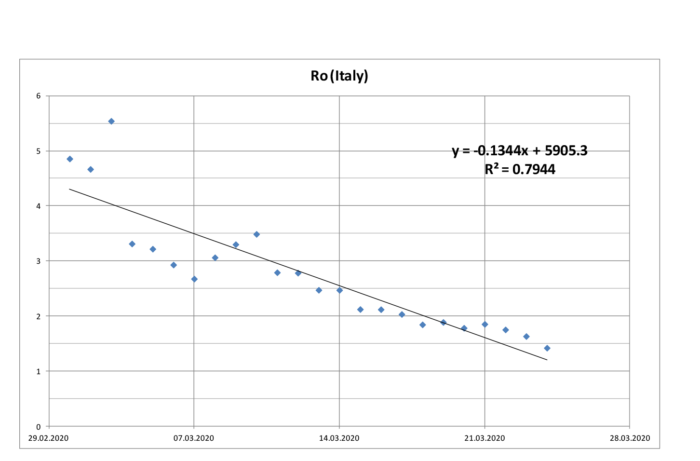 At this point, in spite of all the "crows" who would like us stuck in the house for months, the target of a Ro of 1 could be anticipated again in early April and give hope for a reopening of the activities for the end April.
I believe that such data should have a POSITIVE impact on the financial markets.
THE IMPACT OF ASYMPTOMATIC CASES ON THE MODEL
Finally, I note that I have received dozens and dozens of emails from you, in which I was pointed out that the real number of people infected in Italy could be 3, 5 or maybe even 10 times higher, when considering all the asymptomatic, and therefore this would completely distort the data on which the model is based and its projections.
I answer you: I know!
However, the fact that there are even 10 times more asymptomatic does not necessarily invalidate the model, which by definition must be based on assumptions and cannot faithfully replicate reality (indeed I think that a simpler model is better and works better knowing that we must then use a certain tare and a lot of common sense in the interpretation of the results it provides).
That said, the FinLantern model for making predictions on the evolution of the epidemic can perfectly work even in this situation. Simply, it must be considered that it will be a forecasting model exclusively limited to "symptomatic" only.
If then someone thinks that the number of asymptomatic is 3, 5 or perhaps 10 times higher than that of the symptomatic and, above all, that this factor remains constant over time, it will be enough to multiply the results of our model, or the data provided by the Civil Protection, for the factor he has in mind. On the other hand, continuing to hypothesize a constancy of the relationship between asymptomatic and symptomatic (hypothesis that I consider realistic within certain limits of space and time), it is worth emphasizing that the analysis on Ro that we carry out is not minimally affected.
ESTIMATE FOR TODAY (25/03/2020)
Our expectation for today is a total number of new infected between 69.500 and 70.500.
The impact on the markets could be as follows:
< 76.750 (Ro <1.325): POSITIVE
76.750 – 77.750 (1.325 <Ro <1.43): NEUTRAL
> 77.750 (Ro> 1.43): NEGATIVE
**********************
Today I could no longer keep myself indoors … I therefore decided to go for a nice walk in the time of the Coronavirus J
https://www.facebook.com/moshiko.mizrahi.7/videos/3430786860281554/UzpfSTE4MTYyODA0MjE6MTAyMTMxMzAxODc4MDg3NTc/
WARNING! In the next few days I will no longer be able to send you the Corona Daily by email.
If you liked it and are interested in continuing to receive it, you will need to register FOR FREE at the link http://community.finlantern.com/events/124-corona-daily-comment
A good #IStayHome to all,
Riccardo
Riccardo Esposito
CEO – FinLantern
e-mail: Riccardo@FinLantern.com
Website: https://finlantern.com/
Linkedin: http://ch.linkedin.com/in/resposito