Corona Daily Comment – ENG | 07
EXCLUSIVE! The results of the model developed by FinLantern on the progress of the Coronavirus epidemic
Coronavirus Daily Comment (issue #7)
(by Riccardo Esposito, CEO at FinLantern)


In this issue:
The world ranking of the most infected countries
ITALY: the light at the end of the tunnel!
Presentation of the main results indicated by the monitoring and forecasting model of the epidemiological curve developed by FinLantern
Comment on yesterday's data (March 25th)
Forecast on today's data (March 26th)
Analysis of the possible impact of the latest data on the financial markets: POSITIVE!
(in the next issue) The ranking of countries based on the rate of contagion
WARNING! From tomorrow I will no longer be able to send you the Corona Daily by email, in which I will give the important ranking of the countries where the infection is spreading faster!
Hoping you liked it, to continue receiving it you will need to register for free or download it directly at the link http://community.finlantern.com/events/124-corona-daily-comment
Dear FinLantern friends,
Everyone is always following the interactive map of the world with emotion, showing the areas with the highest number of infections from COVID-19. But does this really make sense? In fact, I think it is useful, not only to read data in absolute but also relative terms. In other words, the number of infections must be compared with the population of that country. For your curiosity, today I present you the photograph a couple of days ago (24/03/2020) of the ranking of all countries in terms of the number of infected people per 100,000 inhabitants.

Some remarks:
This is only a photograph and therefore highlights a situation in a precise moment (24/03/2020).

It therefore does not give any indication of the speed of propagation taking place in a given country

. Countries at the top of the ranking could be slowing down and soon be overtaken by others who are instead in the exponential phase of the epidemic. To have a more qualitative data on the speed of propagation of the contagion in the various nations, you will therefore still have to follow me tomorrow 🙂
From this ranking it emerges that

the top 6 nations are all very small

. This mainly depends on a statistical issue, in which the weight of a few cases has a huge impact on the index that we have created. Moreover, it could also depend on their higher capability to test all their citizens!
Looking at the countries that have more than one million inhabitants, we can see that the first 3 places are from: Italy, Switzerland and Spain.
It is worth anticipating that if I had done this ranking with the data updated yesterday (25/03/2020), Switzerland would have practically reached Italy in first place.
Some countries that have a high number of infections, are far behind in this ranking due to the fact that they also have a very large population (or they did not enoguh tests on their population): China (rank 55), USA (rank 33), South Korea (rank 32).
Sorry, but where is Russia? Russia, with only 0.3 positive cases per 100,000 inhabitants, is currently outside the range of this ranking. Mr. Putin you are always the best !!! 🙂
**********************
COMMENT TO THE DATA of 25/03/2020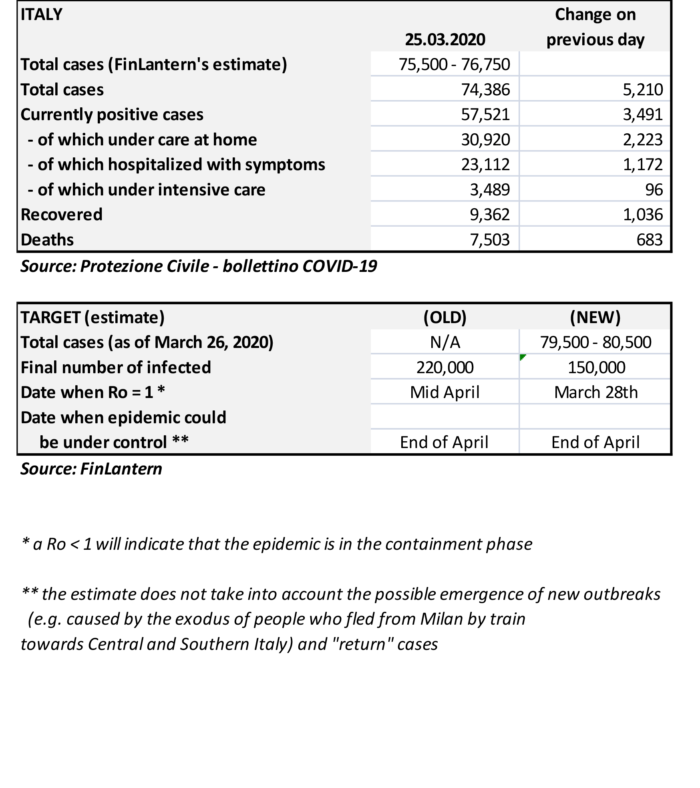 Yesterday's data (25/03/2020) are clearly better than our expectations!
Although the number of newly infected (5,210) is practically in line with that of the day before (5,249), such a number brings the total number of infected people to 74,386, much lower than the target we indicated yesterday (75,500-76,750), resulting in a acceleration of the decline of the Ro index (from 1.42 to 1.17).
I BELIEVE THAT THESE DATA MAY HAVE A VERY POSITIVE IMPACT FOR THE ITALIAN STOCK EXCHANGE. To understand the possible recovery of the other exchanges, I suggest reading tomorrow's Corona Daily in which we will analyze the Ro index of the other countries (free subscription on http://community.finlantern.com/events/124-corona-daily-comment)
WE SET OUR NEW TARGETS:
Ro = 1: March 28th (prev. mid April)
Total number of infected: 150,000 (prev. 220,000)
Reopening of activities: end of April
Considering Ro as a proxy for the containment measures put in place by the Government and the Italians' behavior to be careful not to get infected with each other, it means that the former are proving to be particularly effective (not to mention those put in place last weekend that still have to carry out their effects) and that the Italians have actually learned to respect isolation (as also indicated by the number of fines imposed, which percentage on the number of investigations carried out is almost halved).
At this point, we believe that reaching a Ro of 1 is highly realistic, already in the next few days (next weekend?), thus hitting the first important goal to exit the epidemiological crisis in Italy and indicating the transition from an exponential growth phase to a linear one.
Contrary to the several epidemiological studies of scientists and experts who would like a return to normal (open schools, open offices, open companies, open shops, open recreation centers ….) in July, others in September, some even after 21 months (!!!), our forecasting model instead continues to show us a much optimistic and faster solution of the epidemic phase and a return to normal by the end of April in Italy, which in spite of itself has become a beacon for the whole western world to understand how to manage the epidemic.
So everything OK?
Absolutely NOT! … Absolutely not for the following reasons:
At the current level of spread of the epidemic in Italy, continuing to have a linear growth in the infections would still mean having about 5,000 more infected people every day.
Unfortunately, according to my calculations, such a daily growth of the infections could not however be supported by the growth of hospital beds or intensive care, confirming a gap of about 500 people with serious symptoms who cannot find treatment every day. As I have already explained (see https://finlantern.com/corona-daily-comment-ita-04), although official sources will never admit it, I fear that this is one of the main reasons for the increase in the lethality rate recorded over the past week (8.3% to 10.1%).
The goal must therefore continue to be to respect the quarantine as much as possible in order to make Ro stretch towards zero (the real final goal!)
It will therefore be fundamental to avoid the emergence of new outbreaks. In particular, it will be important that the infection does not spread exponentially in the southern regions.
Without a vaccine or without herd immunity, it may be unrealistic to reach a zero Ro. However, we would go from an epidemic phase to an endemic one with which we should learn to live together, without blocking an entire country for this. How? By learning to identify any positive cases much faster, immediately isolating the infected and those who came into contact with them, developing effective drugs against the virus, using technology to track positive people.
We will have to raise our guard against the so-called "return" cases, providing for greater controls at borders, at airports, development of immediate response swabs, etc.
ESTIMATES FOR TODAY (25/03/2020)
Our expectation for today is a total number of infections between 79.500 and 80.500.
The impact on the markets could be as follows:
<80.500 (Ro <1.07): POSITIVE
80.500 – 82.000 (1.07 <Ro <1.17): NEUTRAL
> 82.000 (Ro> 1.17): NEGATIVE
**********************
Today I dedicated myself to cooking. I prepared a speciality for my family: "pasta carbonara". The ingredients are: spaghetti, onion and bacon cubes, grated parmesan, pepper and a whole egg. Enjoy your meal!
WARNING! From tomorrow I will no longer be able to send you the Corona Daily by email, in which I will give the important ranking of the countries where the infection is spreading faster!
Hoping you liked it, to continue receiving it you will need to register for free or download it directly at the link http://community.finlantern.com/events/124-corona-daily-comment
A good #IStayHome to all,
Riccardo
Riccardo Esposito
CEO – FinLantern
e-mail: Riccardo@FinLantern.com
Website: https://finlantern.com/
Linkedin: http://ch.linkedin.com/in/resposito