Corona Letter – ENG | 13
EXCLUSIVE! The results of the model developed by FinLantern on the progress of the Coronavirus epidemic
Coronavirus Letter (issue #13)
(by Riccardo Esposito, CEO at FinLantern)


In this number:
IS THE CORONAVIRUS CHANGING IN COMMON FLU?

Dear FinLantern friends,
In the last issue of this Corona Letter (n.12) I explained to you a theory of mine that would respond to various inconsistencies that I noticed from the analysis of numerous contagion curves in different countries of the world. According to this theory, the virus could have an incubation period much longer than 14 days, which in fact would imply that we could practically all have already been infected without even knowing it.
One of the consequences of this global contagion would be the fact that while the elderly and those with weak immune systems emerge immediately, as they develop symptoms (and it is on this group that the 14-day incubation period is estimated), who has instead a stronger immune system not only does not develop symptoms (asymptomatic) and therefore they escape statistics, but they would also be able to transmit the virus for periods longer than 14 days.
Today I want to present you a very important graph: the relationship between the number of daily cases registered in Italy and the percentage of these that needed hospitalization or even intensive care treatment.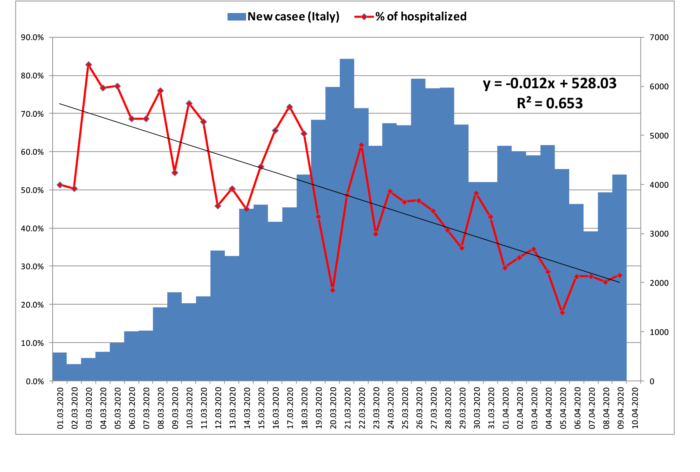 What you notice in this graph is something exceptional and it really surprises me that it has not been sufficiently highlighted by the experts: the percentage of infected people who falls seriously ill due to COVID-19 is drastically decreasing!
Reading the graph above, it turns out that in Italy, while at the beginning of March about 70% -80% of people who were found to be positive for COVID-19 ended up in hospital, currently this number has dropped significantly below 30%! !!
WARNING! If this were the case, this means that the real reason why Italian hospitals are slowly deflating is not so much linked to the drop in the number of new infected people, which also makes a contribution, but above all to the fact that those who fall ill today are not so serious as in the past.
What can be the explanations for this phenomenon?
There can be at least three:
CHENGES IN THE TEST POLICY: If at the beginning of the epidemic the swab was made only to those who presented strong symptoms, while subsequently they started to do the tests in an increasingly systematic way also to those who presented minor symptoms or who could have been potentially infected by others, this could be an explanation of this trend. However, our data does not indicate that this is the case. In fact, the percentage of people found positive for the test at the beginning of March is not particularly high compared to that of other periods.
HERD IMMUNITY: this explanation takes up a bit the theory presented last time. Given that in this case the concept of "herd immunity" is being used improperly, we simply want to highlight that if the virus had already infected all, or in any case a large part of us, probably those who are weaker would have emerged and would have shown symptoms before, while those with a stronger immune system would emerge later, having a greater ability to resist the virus, and with decidedly lower symptoms. In short, the virus would now be experiencing greater resistance from humans.
THE VIRUS COVID-19 IS CHANGING IN COMMON FLU: I remember that the only thing that distinguishes the coronavirus COVID-19 from any other flu (many of which also belong to the category of coronaviruses) is, not so much its rate of mortality (in Italy about 20,000 people die from the flu every year and, therefore, at this moment, according to "official" data, we would still be at a lower level), than the fact of involving a very high recourse to specialist hospital care, what literally brought health systems around the world under pressure. Being new, COVID-19 is still a very unstable virus and is seeking its equilibrium. In practice, it is as if the virus, in its attempt to survive and develop freely, is deciding to become less aggressive towards humans. In this way, it would not be fought definitively, but a common coexistence would be accepted (as in fact it already happens with all the seasonal influences, his cousins).
I THINK THIS FACT COULD BE PARTICULARLY IMPORTANT FOR DECISION MAKERS ON HOW TO MANAGE THE SO-CALLED PHASE 2. For this reason, I invite you to continue following my analyzes … in the next Corona Letter I will give you an update on this trend and examine if it is happening something similar also in other countries.

**********************
Keep on writing to me and asking me questions, and if you think my analyzes and comments are useful, don't hesitate to share them with your friends and colleagues. For this purpose as well use the share button on LINKEDIN:

A good #IStayHome to all,
Riccardo
Riccardo Esposito
CEO – FinLantern
e-mail: Riccardo@FinLantern.com
Website: https://finlantern.com/
Linkedin: http://ch.linkedin.com/in/resposito
NOTE! In order to receive the Corona Daily by email, it is necessary to register on http://community.finlantern.com/events/124-corona-daily-comment. Otherwise, you can always download it for free on https://finlantern.com/corona-daily-comment-summary/