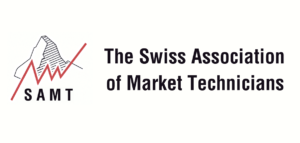 The Swiss Association of Market Technicians (SAMT) is a non-profit organization of market analysis professionals founded in 1987 in Switzerland and member of the International Federation of Technical Analysts (IFTA).
SAMT encourages the development of Technical Analysis and the education of the financial community in the uses and applications of technical research and its value in the formulation of investment and trading decisions.
Technical Analysis is the study of prices and markets. It examines price behavior on an empirical, quantitative and statistical basis. It extends to the study of all published information on price trends, volatility, momentum, cycles and the interrelationship of prices, volume, breadth, sentiment and liquidity. A comprehensive understanding of Technical Analysis requires a knowledge of statistics and pattern recognition, quantitative techniques, algorithmic trading systems, academic studies related to testing procedures and objectives, behavioural finance, investment psychology and a familiarity with financial history and cycles.
Whether you are a professional or novice investor, you will find a wealth of valuable information within our activities to assist you in optimizing your investments.
Website: www. samt-org.ch